[Exhibition | Hawaii, USA]
LightAnimal exhibitions in IUCN WCC 2016
- "Light Animal Magic: Homes for Whales in the Sea" and "Humpbacks return early to Hawai`i for a Special Appearance at Sunset on the Beach in Waikiki" -
Updated Oct. 10, 2016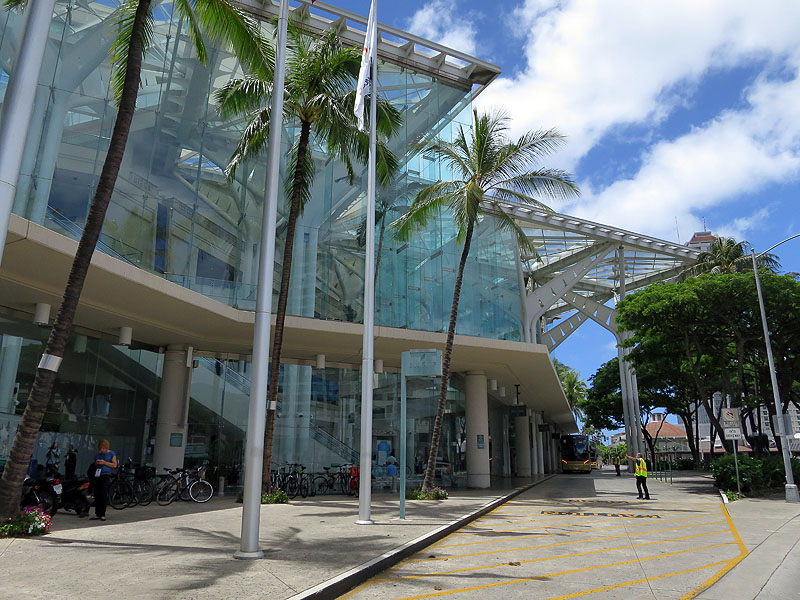 Overview
LightAnimal team went to Hawaii for attendance to IUCN WCC from Aug. 31 until Sept. 8. We gave 2 sessions in IUCN WCC and showed LightAnimal at parallel night event of NOAA. We succeeded in all our exhibitions though we encountered some trouble for example hurricane. All audiences were favorable to LightAnimal. We got many admiration and approval of our work.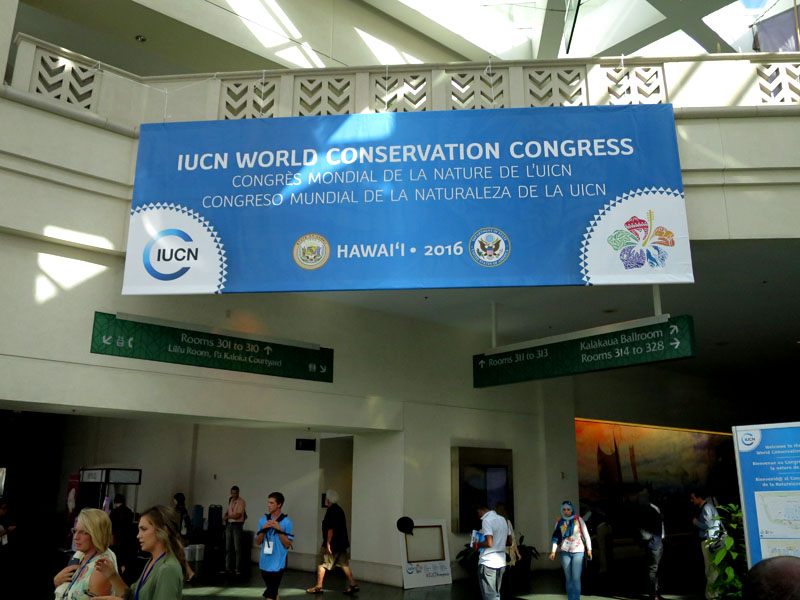 Before exhibition
Setting and adjustment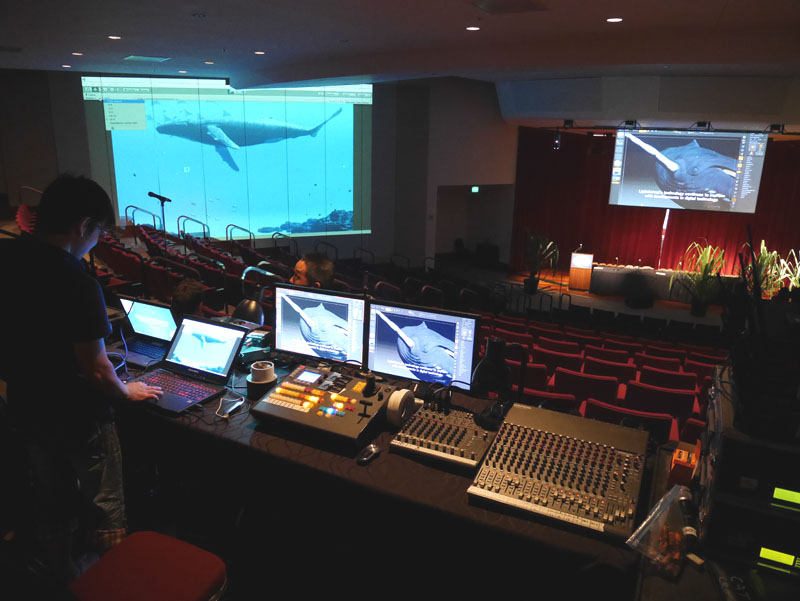 We arrived to Hawaii in Aug. 31. After checked in at a hotel, we went to Hawaii convention center that was the venue for WCC and met up with coordinators. We registered to WCC and did LightAnimal reharsal in a theater.
Changing an exhibition place
Next day, we went to check a courtyard of Hilton hotel for NOAA's event. We checked event space and had a meeting with a coordinator smoothly. However, when we returned to the our hotel, we received a notice that NOAA decided to change event space to indoor because a hurricane was coming. We were sorry that a screen was changed to a smaller one than outdoor.
Exhibitions
First session in IUCN WCC (Sept. 2)
It was the day of our first session in IUCN WCC. Firstly, we introduced LightAnimal briefly and showed description movie. After that, we gave live performance. Audience seemed to be a little confused about LightAnimal at first. They understood it gradually. And we received very favorable response finally.
NOAA's night event (Sept. 2)
After a session in WCC, we joined NOAA's event. LightAnimal was the last program of the 4 hour's event. So, unfortunately, people seemed to loose their concentration when LightAnimal started. Most children left already.
2nd session in IUCN WCC (Sept. 3)
We had a session in IUCN WCC again. Following the previous session's results, we called in children. And we explained about LightAnimal on stage during the session. Audience watched LightAnimal reacting to children, and understood it smoothly. We talked of many things with audience about LightAnimal. They agreed with aim of LightAnimal. This session was a great success.
A short video of our sessions in IUCN WCC
Our impressions
Some 50 audiences in total came to our 2 sessions in IUCN WCC. I think it was good result because we were unknown exhibitors in WCC. All of them were sympathetic to LightAnimal. Especially children lovingly stroked dolphin and whale on the wall. I think LightAnimal evoke a kind feeling to children. They all agreed the educational value of LightAnimal.
We were able to have confidence about its concept and quality.
For getting ahead
On the other hand, we noticed that there were some people who can not understand LightAnimal smoothly. Because I think 3D computer graphics, installation art and interactivity are new concepts in animal exhibition yet. We should need to explain it more nicely.
Further some audience, even educator, wanted to control whale and dolphin of LightAnimal when they knew it was interactive. We don't want to show slavish wildlife even if it is virtual. We are worried that LightAnimal may give a false impression about wildlife to people. We have to consider more to change LightAnimal into something that is different from simple entertainment.
After our exhibitions
After finished all exhibitions, we congratulated our exhibition's success at a microbrewery. All beers were very good.
We visited WCC again and looked around its pavilions. And we observed Honolulu aquarium, Honolulu zoo, Sea life park and Hanauma bay nature preserve. Especially we were deeply impressed with hawaiian monk seal in the aquarium. We spent many time watching it.
Acknowledgement
Our exhibitions were achieved by fund from the following organizations.
NOAA, WCS, TETHYS, EULABOR INSTITUTE, INTERNATIONAL COMMITTEE ON MARINE MAMMAL PROTECTED AREAS, MARINE MAMMAL PROTECTED AREAS TASK FORCE
We deeply appreciate their understanding and kindness for LightAnimal.
In Hawaii, The following people helped us.
Ms. Naomi McIntosh, Ms. Janet Maduli, Ms. Lee-Ann Choy, Mr. Giuseppe Notarbartolo di Sciara and Ms. Kozue Tomomatsu
We are very grateful to them for helping us out. Our exhibition could not succeed without their help.
Finally, we tender our cordial thanks for Mr. Erich Hoyt. He planned exhibitions, raised fund and always supported us. Thank you so much, Erich-san!
Exhibitions details
1. Sessions in IUCN WCC
Name
Light Animal Magic: Homes for Whales in the Sea
Date
September 2, 2016 13:00 - 14:00
September 3, 2016 13:00 - 14:00
Place
Hawaii Convention Center (Liliu Theater 301)

2. Parallel night event of NOAA
| | |
| --- | --- |
| Name | Humpbacks return early to Hawai`i for a Special Appearance at Sunset on the Beach in Waikiki |
| Date | September 2, 2016 19:30 - 21:30 |
| Place | Hilton Hawaiian Village Waikiki Beach Resort |
Links